Why is ductile cast iron plate/table better than gray cast iron plate/table?
2021-07-06 17:41:17
Ductile cast iron is widely used in the field of cast iron angle plates. It is an upgraded version of gray cast iron and one of the main raw materials to replace gray cast iron. The properties of ductile iron tables ( such as wear resistance, pressure resistance, and tensile strength) are better than those of gray cast iron plates, which is one of the main reasons why ductile iron plates are increasingly widely used.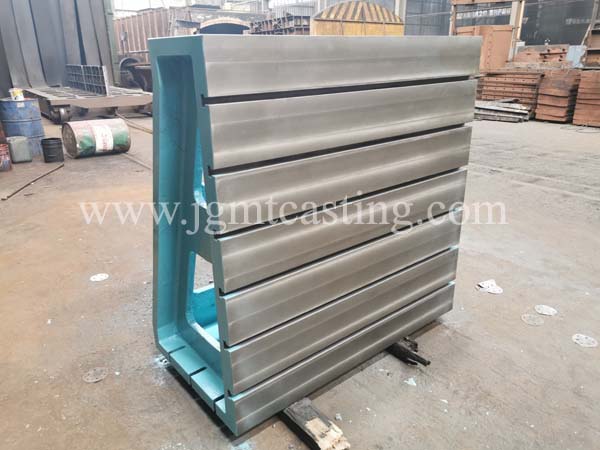 gray cast iron angle plate
The ductile cast iron angle plate is divided into several materials according to the material. Among them, QT900-2 is a grade material, and its collective organization type is bainite or tempered martensite. 
The application of ductile iron workbench: ductile iron platform is widely used for grinding flat materials. Because of its performance characteristics are high hardness, strong wear resistance, strong tensile strength, and not easy to deform. It is used by most manufacturers for high-precision grinding flat materials. The raw material of sand pressing plate, ductile iron is also used in the manufacturing and production of cast iron platforms such as welding platform, scribing plate, assembly platform, inspection platform, experiment platform, and machine tool workbench.  
Ductile iron platform accuracy: ductile iron angle plate can meet all national standard requirements, non-standard specification accuracy, surface roughness can reach Ra0.012, most of the flat plates are made of ductile iron.  
The performance of ductile cast iron platform is better than that of gray cast iron plate, but the manufacturing cost is higher than that of gray cast iron, so it has not been well used and promoted. With the development of industrial modernization, it will become increasingly obvious that ductile cast iron will replace gray cast iron angle plates.
Jinggong Measuring Tools Producing Co., Ltd is specializing in manufacturing and exporting all kinds of cast iron products,especially forcast iron floor plates, cast iron surface plates, cast iron clamping plates, cast iron angle plates, cast iron box table and other machine tool castings. Our engineering enables us to design the cast iron plates and tables according to DIN Standards, Indian Standards and Chinese Standards, machining by CNC machine tools and install in the world market.