What is the function of the belt sintering machine trolley heat insulation pad?
2021-07-14 17:42:21
Belt-type sintering machine trolley heat insulation pad is an insulation device for protecting the support beam of a belt-type sintering machine trolley, in particular to a belt-type sintering machine trolley heat insulation pad. The main solution is to solve the technical problem of ore leakage caused by gaps in the workshop when the belt sintering machine trolley is running online.
The new technical solution is: a belt-type sintering machine trolley heat insulation pad, which is a trough-shaped piece with the opening downwards. The shape of the notch matches the bonding surface of the supporting beam. Asymmetrical structure, with a boss on the outer side that is not assembled with the grate bar. A plurality of flat-bottomed abutment blocks are arranged at the bottom of the notch, which not only reduces the overall weight of the heat insulation pad but also enables a firm contact surface with the support beam.
Belt sintering machine trolley heat insulation pad-There are four specifications of heat insulation pad on the sintering machine, and each piece weighs about 10kg. The materials used and the casting process are completely consistent with the requirements of the fence. Since the heat insulation pad is cast directly into assembly without processing, there are strict regulations on the surface roughness and dimensional accuracy of the heat insulation pad, and grate bars must be hung on it, and the grate bars are also cast without processing.
Used directly afterwards. In this way, a certain gap is left in the design between the parts, so that the trolley will be relatively loose (sliding) during the turning and unloading process, resulting in a certain impact, which is beneficial to the removal of small materials in the gap. The dimensional accuracy requirements of cast-shaped heat insulation pads need to be strictly controlled to achieve, and they need to be annealed after casting.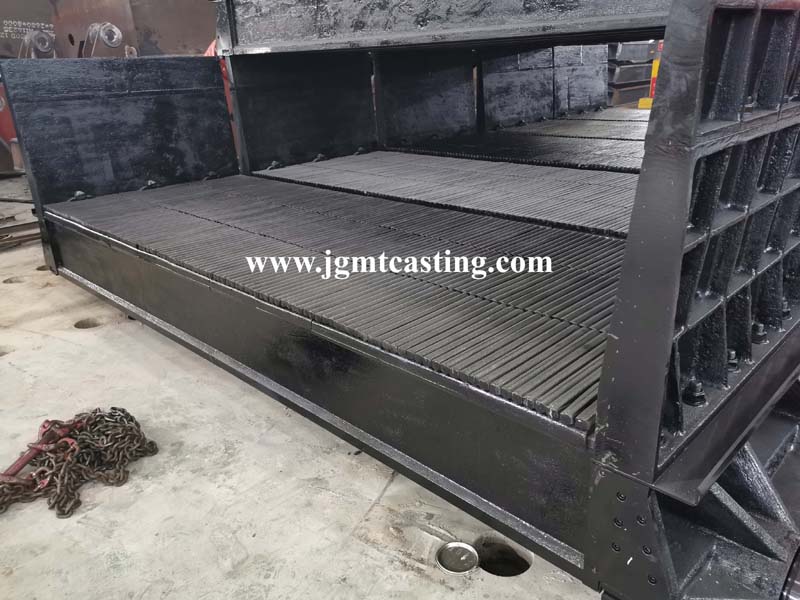 sintering machine pallet car
Jinggong Measuring Tools Producing Co., Ltd is specializing in manufacturing and exporting all kinds of cast iron products,especially for cast iron floor plates, cast iron surface plates, cast iron clamping plates, cast iron angle plates, cast iron box table and other machine tool castings. Our engineering enables us to design the cast iron plates and tables according to DIN Standards, Indian Standards and Chinese Standards, machining by CNC machine tools and install in the world market.